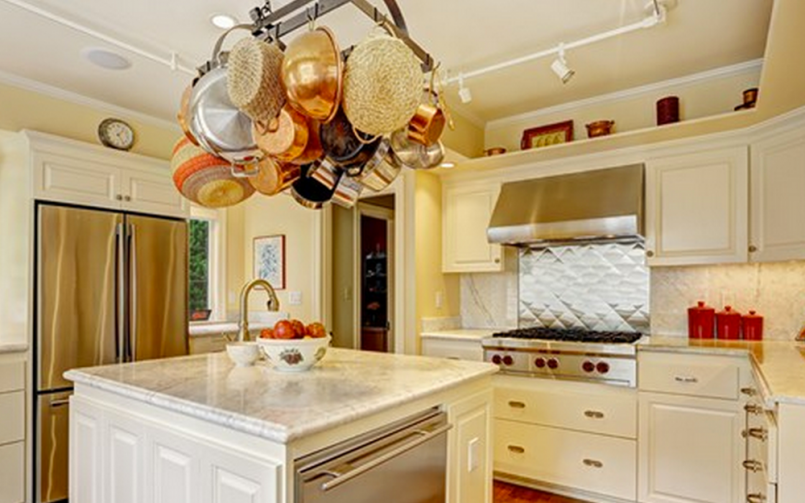 king your Kitchen Functional
Our Home Repair Network, can add shelving, hang racks or add slide out drawers to make your small kitchen more function. Whether you're a dedicated gourmand or an occasional frozen-pizza baker, if you have a small kitchen, then you know how frustrating it can be to try to find a place to store your pots and pans, cutting boards, extra spices, new wine glasses, etc. And once everything's been stored, finding what you need can be a headache, too. Take heart, though; even the smallest of kitchens can be made into a warm, cozy, and functional space with just a few changes and additions! Here are some tips for making the most of the space you've got.
1. Add Storage Space to Cabinet Doors
Door shelves can help you find a place for all kinds of things: household cleaners and sponges under the sink, herbs and spices, and long, thin items like cutting boards, pizza pans, and rolling pins. With more items stored on the inside of the door itself, you'll have more space on the shelves for everything from crockpots to your grandmother's stand mixer. Choose to install wooden shelves rather than cheap, flimsy wire racks that clip on to the door: these can't hold bulkier, heavier items like cutting boards.
2. Get a Kitchen Island—or Butcher's Block.
You'd be amazed how much additional space even a tiny rolling butcher's block can provide! A model just little over a 16" wide and 17" deep, with a drawer and two additional shelves, gives you plenty of new space. Use the drawer for stashing oven mitts and aprons, and the shelves for storing dry goods, like onions, garlic, lemons, and potatoes—anything that doesn't need to be refrigerated. With bigger blocks, you can use the top to store utensil crocks and olive oil—and with kitchen islands, the added space is limitless in its functionality. The fact that most blocks and islands have two wheels doesn't hurt, either: that mobility allows you to be flexible with your space in a way that traditional countertops don't.
3. Use Wall Space Wisely.
If you have blank wall space above your oven or, say, next to your sink, consider installing storage solutions to make the best use of that space. This doesn't have to be clumsy or ugly, either: think hanging racks in a French chateau, a row of copper pots dangling oh-so-chicly above the range; or a gorgeous walnut spice rack to showcase pretty glass bottles and bold flavors. One of our favorite solutions is a magnetic knife rack, which not only looks great, but also keeps your knives from getting nicked as they knock against each other in a drawer. The added benefit of wall storage is that your items are right where you need them when you need them, so you spend less time digging through a big stack of pots and pans, and more time sautéing, steaming, and simmering whatever it is you're whipping up.
4. Rethink the Way You Use Counter Space.
In a small kitchen, we know that you're working with less room. So ask yourself: what do you use often enough that it can be stored on the counter? What can be stored in a cabinet instead? You might, for instance, want to create a coffee area with your Keurig and a K-cup tower (or your grinder and electric kettle!), but keep the mugs, sugar, and filters out of sight in the cabinet above the coffee space. You might want to keep your toaster on the counter, but find a better place to stash your seldom-used panini grill. And that brings us to our last piece of advice…
5. Do Some Major Spring Cleaning.
In other words, de-clutter your space and your life by going through your small kitchen and assessing how much you actually need to keep it all. If a relative gave you a set of adorable ceramic kitten measuring cups, but you never use them because you're terrified you'll break them, it might be time to let them go. This is especially useful for small appliances: that giant margarita maker that's been collecting dust in the back of your cupboard should probably be donated so that it can find a more loving home; and that crockpot that your high school friend's parents gave you as a graduation gift that you haven't used more than once in over ten years (cough, cough) can go, too. The hardest part of clearing out the clutter is facing the guilt we feel about not using the things we own, but when you make way for the items that you do use—and use all the time—you'll not only feel better, you'll find yourself in a more functional, productive space.
Of course, with our Home Repair Network, we can help you out with all of these projects: from carpenters who can build kitchen blocks and cabinet door shelves to home organization experts who will help you de-clutter, we've got the insider scoop on industry professionals who can lend a hand in a timely, friendly, and professional manner. Give HOCOA a call or email us today, and get on the road to the kitchen of your dreams!