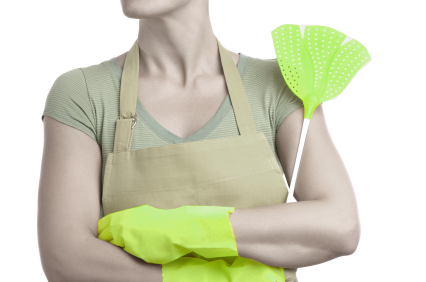 Is Green really clean? There are two ways we could answer this question – are the cleaners labeled as "green" truly eco-friendly and/or do these "green" cleaners really work to clean your home. In this article we are going to cover the latter topic, do the"green" cleaning products really clean. To get some answers, we went to Joe Putter from Home Cleaning Centers of America in North Atlanta and asked him. His answer is that "green is not necessarily clean!" It depends on what area of the house you are cleaning.
Green is Good (in many areas)
In a general clean-up of the house, wiping down the main surfaces usually does not require the strength or abrasiveness of the chemical cleaners. Joe and his crews use a number of products that are safe and non-caustic, specifically on surfaces like granite, marble and travertine. These stone surfaces are porous and can absorb the cleaner if not sealed. He also uses a very nicely lemon grass scented all-purpose cleaner on counter tops to kill harmful bacteria and glass surfaces as well. BUT, these are areas that are typically cleaner in nature and do not tend to have the more difficult issues to clean up.
Not so Much (in wet areas)
However, certain areas of the house, like showers and toilets that have mold and mildew or hard water deposits cannot be cleaned effectively using most Green Products. Here, Joe and his crews use mild abrasives and stronger products for toilets and showers that are specifically designed for that type of cleaning. (Although some of his clients still leave their own products for his crews to use, but they cannot "Guarantee" the effectiveness compared to their own products.) Often times it takes a strong cleaner to keep these problem areas as clean as possible and the length of time these areas stay clean will vary as well.
What does it mean for You
Unfortunately, you may not be able to abandon all "non green" cleaning supplies, but you can use a mix depending on the area you are cleaning. The more difficult to clean areas will still require the harsher cleaning supplies, but there are many areas of the home that "green or eco-friendly" can still play a role. If you use a cleaning service, you can ask them to use their eco-friendly products in most of the house or provide your own.