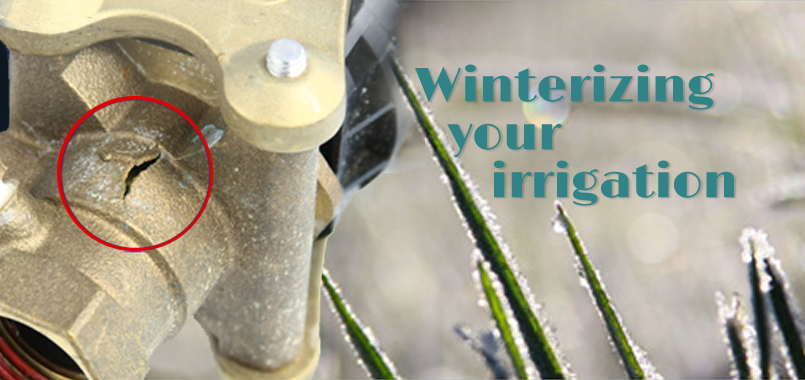 Why Winterize your Irrigation System
When winter comes, you do not want to wait until it is too late to winterize your Irrigation/Sprinkler system in cold weather states. The last thing you want to be dealing with is broken underground pipes and the expense of fixing your sprinkler system. Many times you will not know until spring that there is a problem.
Other reasons to Winterize
Burst pipes are not the only reason to winterize your Irrigation system. Water conservation and safety also play a role. During the winter months your watering needs are greatly reduced as your lawn goes dormant and there is increased precipitation. So, for the most part, you do not want to run your system during this time.
Now what about this safety thing, you may not have thought about it, but if your pipes burst and flood or your sprinkler runs during freezing weather, you could be creating an ice hazard on your driveway or the roads near your home.
How to Winterize your Irrigation
Now that you know why, you want to know how. Primarily you want to remove the water from your system. That includes the pipes, valves and sprinkler heads.
If you want to get the process started on your own,  you can turn off the water supply to your system and allow the system timer to run through all of its cycles in its normal manner. This will dispel most of the water in the system and the remaining water will not be under pressure.
After the draining process, the Timer/Control Panel can be switched off or unplugged.  If you unplug it for the season, it will need to re-programmed in spring.  If there are above ground pipes or valves, insulating them from freezing temps never hurts.
However, water could be left in the backflow, piping or sprinklers and the real fail-safe way is to have a professional do the blow out method, by using compressed air. Using a professional is the best way because the power of the compressed air could damage your system and this is the one way you know all the water is out of the system. The largest expense of not winterizing the system could be the cost of replacing parts in the backflow that becomes frozen and cracked.